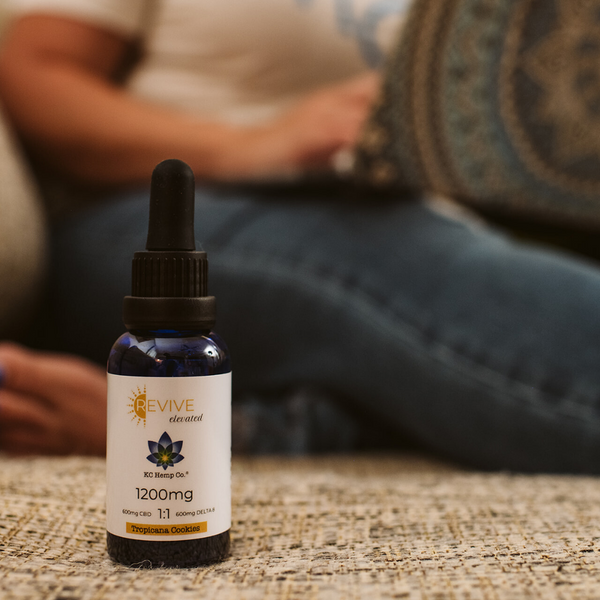 The newest in the elevated collection from KC Hemp Co.®
This 1:1 ratio of Delta 8 to CBD is what dreams are made of. Add in the Sativa effects of the Tropicana Cookies terpene profile and you're ready to tackle anything the day might have in store for you.
Each bottle contains 600mg of CBD and 600mg of Delta 8 with a favorable tropical flavor. This tincture is a full blown game changer for those having trouble with daytime stress and anxious overload.
Ingredients:
Delta 8 THC, Phytocannabinoid Rich Oil (CBD), MCT Oil, Tropicana Cookies terpenes
How much should I take?
We recommend starting with 1/2 dropper in the morning, slowly working your way up to the recommended dose of 1 dropper. Hold the oil under the tongue for 60-90 seconds and swallow any residual.
How will it make me feel?
Delta 8 does cause psychotropic effects. With that being said, when mixed in a 1:1 ratio with CBD they are very mild. Instead, the CBD and Delta 8 pack a POWERFUL therapeutic punch for daily aches and pains and to help you slow your mind down to improve your rest.
What is Delta 8?
Delta-8 THC is one of those cannabinoids. While it doesn't occur in large amounts within the cannabis plant, it is showing to have real promise among CBD users. We define Delta 8 THC as "diet weed" or "weed's little brother". If you want to learn more, check out this video:
Are Delta 8 products legal?
Yes! Delta 8 products are harvested from the hemp plant which by federal definition makes all cannabinoids derived from hemp, other than Delta 9 THC, legal! There are a few states who have adopted laws that make purchasing Delta 8 products illegal.
DELTA 8 PRODUCTS WILL NOT BE SHIPPED TO THE FOLLOWING STATES DUE TO LEGALITY ISSUES:
Alaska
Arizona
Arkansas
Colorado
Connecticut
Delaware
Kentucky
Idaho
Iowa
Michigan
Mississippi
Montana
New York
North Dakota
Rhode Island
Utah
Vermont
Tropicana Cookies terpene profile:
Caryophyllene
Limonene
Humulene
The Tropicana Cookies terpene profile is known for its uplifting and euphoric effects. It lifts and lightens the limbs while opening the mind making it the perfect profile for a daytime effect. All good vibes with Tropicana Cookies.


Are you looking for a more relaxing Delta 8 experience? Check out our RELAX DELTA 8 TINCTURE HERE!