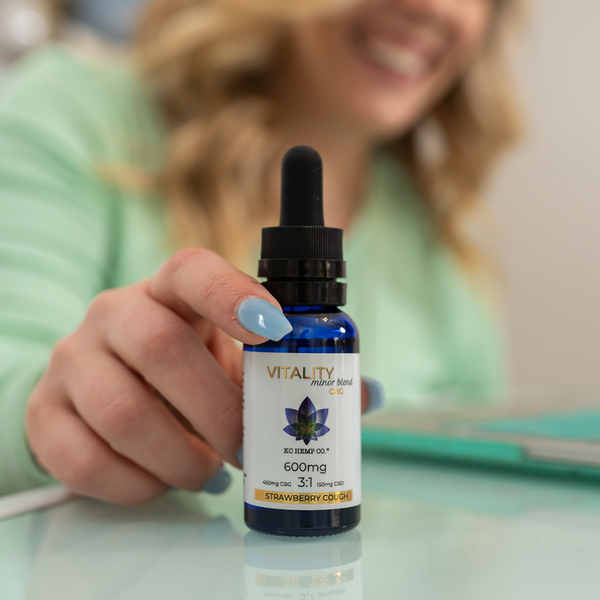 What is CBG?
CBG, known as the mother of all cannabinoids, is recognized for its effectiveness within the Endocannabinoid System. Unlike CBD, CBG interacts directly with the CB1 receptors leading it to be an incredibly effective cannabinoid with a host of wonderful likely benefits. Our CBG minor blend tincture has been specifically formulated to potentially reduce your stress, give you energy and help your day be filled with a renewed sense of life!
Potential Benefits 
Stress reduction

Appetite inducing

Eye Health

Inflammatory regulator 

Analgesic (comfort aid)
CBG is considered a minor cannabinoid. Minor cannabinoids are cannabinoids that exist in smaller percentages within the plant. There are over 100 cannabinoids currently found in the cannabis plant. These cannabinoids can play key roles in providing therapeutic value alongside CBD and THC. The presence of more cannabinoids and terpenes in a plant contribute to the Entourage Effect, which implies the more natural plant compounds present, the better it will work.
Ingredients
MCT coconut oil, Phytocannabinoid Rich Oil (CBD), CBG, terpenes
This tincture is a 600mg 3:1 CBG to CBD tincture. Each tincture includes 450mg of CBG and 150mg of CBD
How to use your CBG Tincture
We recommend taking 1 dropper full once a day or as needed. 
Strawberry Cough Terpenes
This tincture contains steam distilled terpenes in the cannabis strain Strawberry Cough. The addition of terpenes to tinctures is essential in creating a tailored and customized experience. Terpenes can directly affect the way cannabinoids can interact within the Endocannabinoid System.
Dominant Terpenes: Beta Caryophyllene, Myrcene, Limonene, Humulene, Pinene
Strain:
 Sativa
Fragrance:
 Strawberry, pine and pepper
Effects:
 Focus and Energy