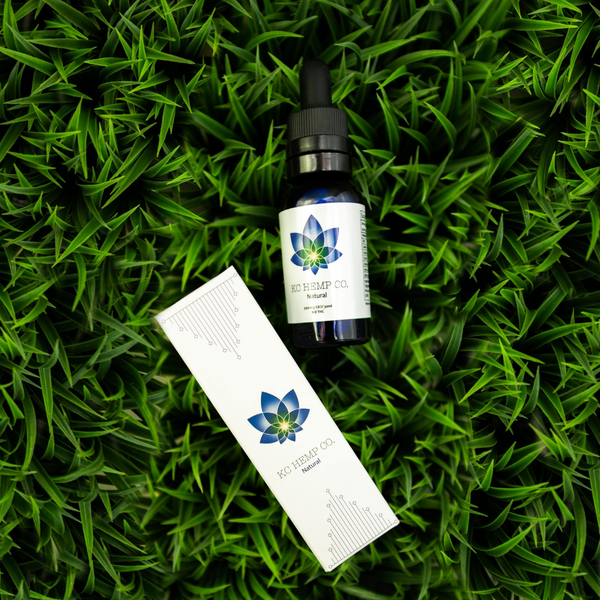 "I use the oil and have already seen remarkable results in only 1 week."--Kim V.
Our KC Hemp Co.® Broad Spectrum Natural Tinctures are our pride and joy. Formulated with USDA certified grown and extracted hemp and USDA certified organic MCT oil, these tinctures are the highest quality CBD tinctures you can find on the market.

Ingredients:
USDA Certified Organic MCT Oil, Certified Organic Phytocannabinoid Rich Distillate 
How much CBD do I need?
"Low and slow is the way to go." This is key when starting out in your CBD journey. As a general rule of thumb, we recommend starting with 1mg for every 10lbs of body weight. For example, a person weighing 200 pounds would want to start with 20mg of CBD per dose. 
Remember, this is simply a starting point and you may need less or more. Each person's body is at a varying level of imbalance and it is up to you to listen to your body and adjust as necessary. We recommend tracking your dosing schedule so you can see what has or hasn't worked for you in the past. 
Third Party Lab Tested CBD
Third party lab testing is essential when choosing a quality product. Here at KC Hemp Co.® we handcraft our tinctures in small batches to ensure the purity and quality are up to the highest of standards. These tests show the exact amount of CBD in each bottle and what is, and isn't, in each bottle.  Each of our handcrafted CBD tinctures comes with a QR code located on the bottom of the bottle. You can scan the QR code with your camera on your phone and pull up the lab report connected to your bottle of CBD.  In addition to scanning the QR code, you can also find test results for the entirety of our products here: LAB RESULTS
MCT Oil and CBD
We use MCT Oil (coconut oil) as a carrier oil in all of our tinctures. CBD has to bind to a lipid to be absorbed to our body and MCT oil is the go to for many reasons. A few benefits to using MCT oil are:
It's Colorless, Odorless & Flavorless

Maximum absoprtion

Has the potential to reduce lactate buildup

Could promote weight loss


BROAD SPECTRUM = THC FREE
Our KC Hemp Co.® tinctures are broad spectrum meaning these tinctures are THC FREE. They contain all other cannabinoids and plant matter naturally found within hemp, but the THC has been removed. We do this for several reasons. A major benefit is for people who may be drug screened. Most drug screens are testing specifically for THC, or tetrahydrocannabinol. It also keeps your CBD from having any psychotropic effects. You can take this product and not worry about your mental capcity fluctuating in any way!
Please keep in mind these are a natural plant product and the taste and color will vary slightly.